Get out of the city and spend the day swimming and hiking through the Northbrook Gorge located just an hour away from sunny Brisbane, QLD. I did this walk on an early summer morning and was back in the city by 10:30am, but you could definitely make it a whole day affair and spend your time picnicking and swimming in the beautiful rock pools of Northbrook Gorge.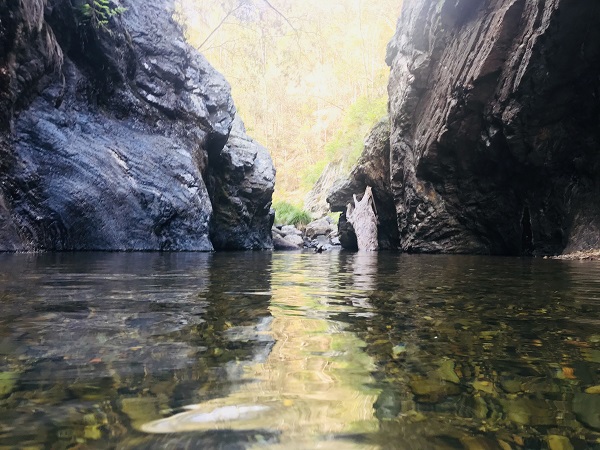 How to Get There
To get to the start of the Northbrook Gorge hiking trail you'll need to drive into D'Aguilar National Park. The gorges are in the valley of Mount Glorious, a pleasant 1 hour drive north west from Brisbane City.

The roads going into the mountains are very well maintained, though once you hit the mountains expect very steep and windy roads (perfect for motorbikes, if you're into that).

Difficulty Level
Hard or Beginner – you choose!
There are two places you can start the walk from. If you're looking for a more challenging and longer hike, you can start from the Wivenhoe Lookout.

There is a small trail from the lookout that heads down into the gorge – note that there isn't a clear path and this is only recommended for experienced hikers. If starting from the lookout there is a small car park which is where you should aim for when driving. Expect this hike to take 3-4 hours – about 40 minutes to descend to the river, a couple of hours of swimming through the gorges and then the hike back up to the car park.
If you're looking for an easier option you can start the hike down at the creek – this is more suitable for a fun day out, for families or for beginner/intermediate hikers who don't have a map with them.

I chose this option since I was by myself, not prepared with a map or emergency kit and didn't want to risk getting lost.

This easier and quicker route will take around 30 mins to get to the gorges, and as much time as you want to swim through and enjoy the water.

Where to Park
If you opt for the longer route, parking is easy at the Wivenhoe Lookout car park.
If you decide to take the easier and quicker route, like I did, there is a small area that you can park your car – you will need to drive down Northbrook Parkway, about 4 minutes past Wivenhoe Lookout – if you reach the first bridge across Northbrook Creek then you've gone too far.
The parking area is situated at coordinates 27°18'28.2″S 152°42'48.4″E.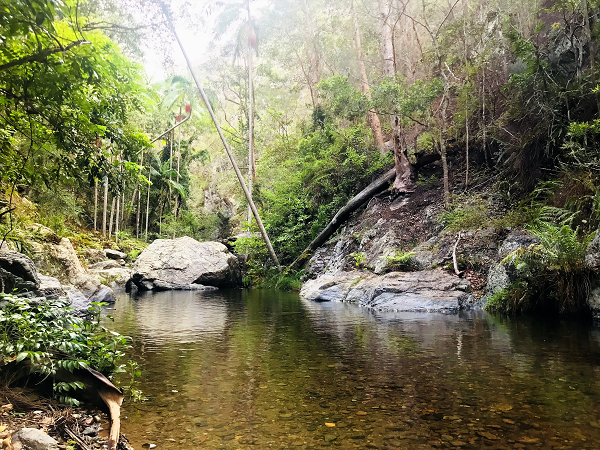 Track Notes for the Quicker Route
Once you've parked the car you will need to cross the road, heading down hill you'll find a small track that leads down to the creek.
Walk down this track for around 350 metres. Once you get to the creek take note of your surroundings – there's a pile of rocks marking the track so you don't miss it on your way back to the car.
Turn left at the creek and follow the path to the gorge. You can walk through the water or on the path. You'll need to do a bit of rock hopping along the track. Please be mindful of slippery rocks when walking in the water, especially if you're with children. It's very easy to lose your footing so take your time on the rocks.
Keep following the creek until you come to the gorge. The first couple of water holes you'll be able to walk through with water coming to your waist, then you'll get to some water that is a bit deeper and you'll need to swim through.
Enjoy your time swimming, take some lunch and spend the day there, it's a beautiful spot especially in summer. When it's time to return to the car simply follow the path you used to get there, and remember to take everything with you, including rubbish!
Check out my video of Northbrook Gorge, it will help you to get a visual of what to expect for parking, finding the track and the type of terrain.

What to Pack

On all hikes, especially those without mobile reception like this one, it is essential to come prepared. For the Northbrook Gorge hiking trail I recommend that you pack the following:

A waterproof bag: I packed all my items inside a 5 litre waterproof bag. You will need to wade through waist high water before you get to the deeper swimming spots and the waterproof bag helps keep everything dry. If you don't have one you can line the inside of your backpack with a garbage bag to protect your items from getting wet.
Sunscreen
Hat
Water
Phone and camera
Snacks and lunch
Towel and spare clothes: You can take these with you or change when you get back to the car
Emergency kit: Bandages, PLB, foil blanket
Shoes that you're comfortable walking in the water and on rocks. Hiking boots, joggers, water shoes or water sandals.