Traveling to Antarctica seems to be one of those bucket list items that a lot of travelers talk about but usually don't get around to doing…our guess is because of the harsh weather, high expense of travel and difficulty to get there.
We want to make your bucket list travel destinations a reality with ease, so we've put together our best Antarctica travel tips to help make your dream trip come true.
Here we'll cover all Antarctica travel tips, including:
How to get to Antarctica
Types of adventures you can have there
Currency and expenses
How to plan your Antarctica trip
Packing lists
and more…
If you'd prefer to find a travel destination based on the type of adventure you're after you can visit our Adventure Activities Guide.
Why Choose Antarctica as a Travel Destination?

When we think of Antarctica we think of icebergs, wildlife, isolation and magnificent landscapes. The best way to describe it is probably 'the ultimate adventure.' If you're looking for a travel destination that will leave you in awe, challenge you physically and mentally and have people turning their heads when you tell them where you're going, then Antarctica travel is for you.

Wildlife in Antarctica
Antarctica isn't like other travel destinations; you're not going to experience cities or even villages brimming with culture. Antarctica's culture lies amongst it's natural inhabitants…it's wildlife!
Penguins
The two main types of penguins you'll see in Antarctica are the Adelie and Emperor penguins. When you're in Antarctica you won't be allowed to go up close to the penguins, but they are very friendly and curious, so if you stay where you are they will most likely come up to you. It's a great opportunity to get close to them, enjoying your time with them and even get a few snaps to show your friends and family.
Seals and Sea Lions
These guys you won't want to get close to! They are amazing to observe from a distance but the bulls can be very dangerous, especially around breeding season. When you get the opportunity the seals and sea lions are beautiful to watch as they gracefully swim through the ice cold Antarctic waters. Or you can watch them sun bathing on the ice and raising their young.
Birds
For bird lovers, there are several types of flying birds that hang around Antarctica. You'll want to make sure you've got your cameras ready to capture uninterrupted nature at it's finest! With 4 varieties of Albatross, Blue Eyed Cormorant, Petrels, Shearwaters and more, there will be birds galore for you to feast your eyes on as they glide above the Antarctic.
Whales
Perhaps the most sought after sighting in Antarctica! There are 8 types of Whales that grace the Antarctic waters and to experience the presence of any of them is majestic.
The Landscape of Antarctica
The Antarctic landscape is both awe inspiring and intimidating. You wouldn't want to have to survive there on your own and that is probably part of the allure of visiting it. Here are some facts about the Antarctic landscape to give you some scope of what to expect:
The land mass of Antarctica is covered with around 4km thick ice

The little vegetation includes mosses and lichens

There are mountainous areas and some exposed rock

Average height above sea level is 2,500m
Antarctica has a very harsh environments and is the highest, driest, windiest and coldest continent in the world.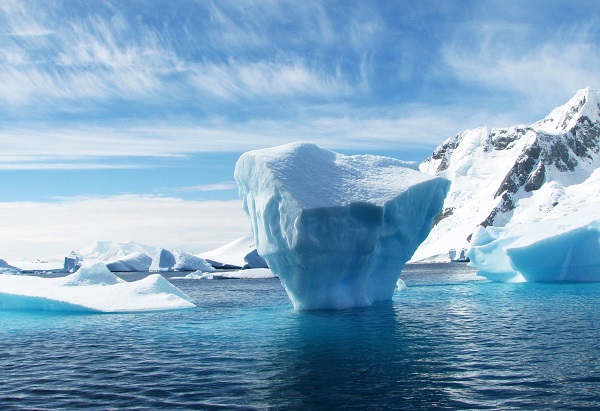 The People of Antarctica
Antarctica does not have any native inhabitants, however, although few, there are people that live there.
Each summer a few thousand people travel to Antarctica for around 6 months to work on research and sustainability projects. The most populated area is McMurdo Base on Ross Island.
These people live and work in insulated quarters and any expeditions outside of these bases display the full effect of the Antarctic landscape.
Activities and Adventure in Antarctica
A land of adventure and wildlife, Antarctica is a dream paradise for those free at heart and seeking a truly unique and unforgettable experience.
The activities available in Antarctica are seemingly endless, with opportunities to experience the following, depending on where, when and how long you are spending in Antarctica:
– Kayaking
– Hiking
– Camping
– Mountaineering
– Scuba Diving
– Sailing
– Whale Watching
– Bird Watching
– Wildlife tours
It is best to speak to your tour company or guide before booking so you know what activities you can experience.
How to Get to Antarctica
Traveling by expedition ship is the most common way to get to Antarctica, however there are also options to fly there.
However you choose to get there, it will need to be with a tour guide.
Sailing to Antarctica is often a rough adventure, usually cruising in style but having to pass through the notoriously rough Drake Passage, a stretch of water that is rarely forgiving for sea-sickness. Though it is well worth it, as sailing is a very pure and adventurist way of getting to the other-worldly environment of Antarctica and experiencing the beauty of glaciers and wildlife along the way.
The most popular route into Antarctica is to leave from the southern tip of South America. Here are some options for you to consider:
Flying to Antarctica
There are no regular flights to Antarctica. If flying is the right option for you, you will need to book a chartered flight with a guide, or as part of a package.
Flights will usually leave from:
– Punta Arenas, Chile
– Cape Town, South Africa
Some flights are cost effective, costing around the same a sailing. However most flights are in excess of $25,000.
Sailing to Antarctica
Sailing is by far the most common way to reaching Antarctica. Here are some of the options:
Majority of boats leave from Ushuaia, Argentina and arrive at the Antarctic Peninsular. This is a 2 day journey, passing through The Drake Passage and an amazing opportunity to spot sea-life and birds.
You can also catch a ship leaving from Invercargill, New Zealand and arriving at the Ross Sea area of Antarctica. This a 10 day journey allowing a view of remote Antarctica and following the path of Shakleton.
When to go?
The best time to travel to Antarctica is during the summer months, from November to March. It is much easier to access Antarctica during these months and the weather is much more pleasant than during the colder months.
It is best to book your tour at least a year in advance to ensure you don't miss out on a place.
Packing List for Antarctica Travel
When visiting Antarctica, there are two very important pieces of advice we can offer for packing:
1) Don't over pack
2) Don't under pack
Yes, it seems silly to say it, but there is a very fine line between over and under packing and we want to make sure you've got everything you need without the hassle of too much luggage.
We also advise that you carry a backpack rather than a suitcase with wheels, it is much easier to navigate ship corridors and get on and off ships.
So with that in mind, here is our recommended packing list for Antarctica:
Sunscreen and sunglasses – it might be cold but the sun can be harsh, especially when glaring off the ice.
Sea sickness medication
Waterproof pants that you can layer on top of warm pants. Alternatively, snow pants.
A parker, which will usually be provided to you by your tour company, but make sure you check this detail.
Waterproof boots, preferably high-knee boots.
Base and warm layers – this includes good quality t-shirts, long sleeves, thermal pants, multiple warm socks and, of course, your under garments.
A hat and/or beanie, preferably warm and waterproof.
Scarf and gloves.
Casual clothes and slip-on shoes for when you're on the ship.
Camera, battery/charger, spare memory cards, waterproof case/bag for camera.
A small waterproof day backpack and/or a dry bag.
Essentials such a toothbrush, toothpaste, soap, hairbrush, tampons for the girls.
You can also consider hiring some of this gear from your tour company if they provide that option.
It is important not to over pack, for example, 2 pairs of shoes are enough (boots and slip-ons), one or two pants are enough. This is not the sort of trip to make a fashion statement. Pack efficiently.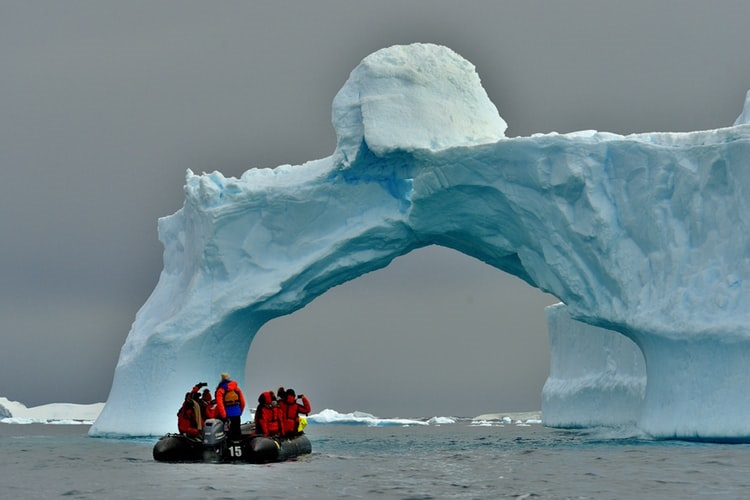 Top 6 Tips for Antarctica Travel
1. Visas:
Since no country owns Antarctica, no visa is required to travel there. However, you will need to seek permission to go to Antarctica if you are from a country which is part of The Antarctica Treaty. If you are a citizen of a country that is not a signatory of the treaty, you don't need permission to visit Antarctica, however the guide or company you are traveling with may still insist upon you receiving a permit.
It is best to speak with your tour operator for their guidelines and advice on how to obtain a permit for traveling to Antarctica.
2. Respect the land and wildlife:
Traveling to Antarctica is a privilege and one not to be taken lightly. Please be respectful of the environment and wildlife while there. Don't touch the animals, and don't take anything back with you except for your rubbish.
3. Travel time:
Most tours last for around 8-10 days. This includes travel time, leaving you with around 5 days to explore Antarctica. While this might be enough to for some, you may want to spend more time on this (usually) once-in-a-lifetime trip. If so, we recommend looking into a longer tour, which usually last for around 3 weeks.
4. Pack extras!
Extra batteries, hard drives, memory cards, sea-sickness medication.
The last thing you want on this amazing adventure to Antarctica is to miss out on the spectacular scenery and adventures because you aren't feeling well. Make sure you have your sea sickness under control! You can bring sea sickness tablets with you. One trick that alleviates sea sickness immediately for up to one hour is to pour cold water onto your head…hear me out here…it may be cold but it really works much better than any tablets.
Also make sure you enough battery and memory to capture the beauty of Antarctica. Chances are you'll be taking many more photos than your regular holiday, so make sure you have plenty of space to store it and recharge.
5. Don't forget to step away from the lens!

Whilst it's tempting to capture the beauty of Antarctica and take as many photos and videos as you can, we urge you to take a few steps away from the camera as often as you can. Capturing the highlights on your camera is important so you can look back on your Antarctica travel with beautiful visuals. However, those photos won't compare in the slightest to your memory of being there. So step back, and allow yourself to be truly immersed in your surroundings.
6. Plan for your pre and post Antarctica destination:
Whether you are leaving from South America, New Zealand or South Africa, make sure you take this into consideration while you are planning your trip.
You may want to spend some more time exploring these destinations. Whether you spend more time there or not, ensure you've organised the correct visas, currency and packed for the weather for your location pre and post Antarctica.

Want to Contribute to our Antarctica Holiday Tips?
We love hearing other traveller's stories. If you've got some great tips that you think our audience will love just reach out via our contact page.