Everything You Need To Know About A Holiday To Bulgaria
Bulgaria travel is a must for anyone wanting to experience the rich culture of the Balkans. Brimming with culture, history, interesting cities, beautiful beaches and an array of mountains, we recommend a holiday to Bulgaria for all types of travellers.
Bulgaria has something to offer for all seasons; during summer, enjoy a mountain retreat to the 7 Rila Lakes, or kick back and watch the world go by on one of the many beaches of the Black Sea. During winter enjoy time inside taverns, skiing at one of the many affordable ski resorts, or trek to frozen waterfalls.
There is plenty to do for Bulgaria travel, read on to find out our top tips for travelling to Bulgaria and the best things to do in Bulgaria.
Top 11 Things To Do In Bulgaria
Bulgaria is filled with great holiday options for all types of travellers, in all seasons. Keep reading through this article for more tips on what to do on a holiday to Bulgaria, but for now, here are our top 11 things to do in Bulgaria and best places to visit in Bulgaria.
Relax by the beach on the Black Sea
Visit the capital city, Sofia – clubs, restaurants, ancient ruins
Enjoy the old town of Plovdiv
Hike to the 7 Rila Lakes
Visit the Rila Monestary
Climb a mountain or three
Attend a Bulgarian festival
Go rock climbing
Chase waterfalls
Spend time in a small village
Enjoy a coffee and watch the world go by
Where Is Bulgaria

Located ?

When you think of Bulgaria, you think of the Balkans. But where is Bulgaria located?

Located on the Balkan Peninsular in South-Eastern Europe, Bulgaria is a large Balkan nation with it's east coast on the Black Sea. It is bordered by Turkey and Greece to the south, Romania to the north, and Serbia and Macedonia to the west.

Although Bulgaria is one of many Balkan nations, it is the only one that contains the Balkan mountain range, which stretches from the western border with Serbia all the way to the Black Sea.

Because of Bulgaria's location it has a diverse terrain, including beaches along the Black Sea coastline and a mountainous interior brimming with rivers and adventures waiting to be enjoyed. Not only does Bulgaria have a diverse terrain, it's location also contributes to diverse culture. With influence from it's surrounding nations and past history, you will find that Bulgaria is a melting pot of culture from Slavic, Ottoman, Persian and Greek effect.
Is Bulgaria Safe?
Surprisingly, one question that seemed to be asked a lot when we told friends we were travelling to Bulgaria, was 'is Bulgaria safe?' It's an understandable question when you don't know anything about the country or culture of Bulgaria. And to be honest, we didn't know the answer ourselves until we arrived in Bulgaria.
We can happily say, after spending almost 3 months in Bulgaria, that yes, Bulgaria is safe, especially for travellers. Of course, you must watch out for own safety and be street smart as there are always risks involved in travelling. Personally, in the whole time that we were in Bulgaria, we didn't ever feel unsafe, whether that was during the day, out at night, in small villages or in the city.
Bulgarian Culture, Language and Religion
With past influence from historical empires, Bulgaria is a melting pot of culture. In Bulgarian culture you can find influence from Slavic, Ottoman, Persian and Greek culture. That's not to say that the Bulgarians don't also hold their own traditions and cultural values, which is what makes Bulgarian culture so unique.
From mountain festivals, to traditional dancing in ice rivers, Bulgaria has a traditional and modern culture that you won't find anywhere else in the world. There are some traditions that only Bulgarian's will understand, but that you can participate in and enjoy as a visitor.
This melting pot of cultures is also present in religion throughout the country. Bulgarians are predominately (82% of the population) Eastern Orthodox Christian, however you will find a range of other religions present, including Roman Catholic, Armenian Orthodox, Protestant and Muslim (the second largest religion in Bulgarian at 13%).
As for language, Bulgarians speak Bulgarian, a south-Slavik language which is similar to Macedonian, Serbian, Croatian, Bosnian and Slovenian. They use the Cyrillic alphabet which is simple to learn and handy to read if you are travelling through Bulgaria and surrounding countries. Even if you don't know what each word means, being able to sound out street names, names of buildings and menu items helps a lot.
It is good to know some basic Bulgarian language while visiting the country, so here is some handy words and phrases in the Bulgarian language to get you by:
| | | |
| --- | --- | --- |
| English | Bulgarian | Cyrillic |
| Hello | zdravei | здравей |
| Goodbye | dovizhdane | довиждане |
| Yes | da | да |
| No | ne | не |
| Please | molya | моля |
| Thank you | blagodarya | благодаря |
| How are you? | kak si | как си |
| I'm great, and you? | az sam strahotno, a ti | аз съм страхотно, а ти? |
| Good, thanks | dobre, blagodarya | добре, благодаря |
| What is your name? | kak se kazvash | как се казваш |
| My name is | kazvam se | името ми е |
| Do you speak English? | govorite li anglijski | говорите ли английски |
| I don't understand | ne razbiram | не разбирам |
| How much is…? | kolko e | колко е |
| Where is…? | kade e | къде е |
Currency, Accommodation and Prices in Bulgaria
Prices in Bulgaria are very affordable in terms of European standards, and are mostly on par with other Eastern European nations. As in most countries, you will find that the smaller towns and villages have cheaper produce, food and accommodation available than the bigger touristy cities.
The currency used in Bulgaria is the Bulgarian Leva (BNG). You can use this currency converter to get an idea on conversion rates to your own currency.
It is very simple to exchange money in Bulgaria. All of the cities and larger towns we visited had currency exchange shops and ATMs. Just make sure to exchange some cash before visiting smaller towns.
It's best to carry cash instead of a credit or debit card, as a lot of shops and restaurants only accept cash. We use TransferWise (recently changed to Wise) to handle this. They have great exchange rates and with their debit card you can spend at shops and withdraw from ATMs almost anywhere in the world for a much better rate than any of the currency exchange shops or regular travel cards.
Prices in Bulgaria for accommodation and food will differ depending on where you're staying. For instance, we found the most expensive accommodation, meals and groceries were in suburbs surrounding Sofia and in Plovdiv, and the cheapest accommodation was in Sofia and in towns surrounding the Central Balkan National Park. In saying that, all of it was still affordable and within our budget, which made moving around the country easy. You'll be able to find AirBnb apartments in Bulgaria anywhere from $120 to $thousands per week, which means you can really pick to your budget and comfort level.
For accommodation, we booked apartments with AirBnb everywhere we stayed in Bulgaria. It gave us plenty of options and the flexibility of staying in an apartment instead of a hotel room. That means more room and work space, since we are working online while we travel, and we always have a kitchen which comes in handy.
To give an idea on food prices, we were typically paying around 40BNG for 4-5 days worth of groceries for 2 people. A full meal from a restaurant was typically 15BNG per person and around 7-10BNG per person from a take-away kitchen, which are prevalent across Bulgaria. You can also get much cheaper food – kebabs, pizza by the slice, and bakeries are on every corner and are super affordable.
Bulgarian Food
When I think back on Bulgarian food, 3 things stand out – Bulgarian feta cheese, honey and biscuit cake…yum! Of course, there are plenty of delightful dishes of traditional Bulgarian food, here are some of them:

banitsa
shopska salad
bulgarian desserts
bulgarian banitsa
tarator soup
bulgarian cake
bulgarian soup
bulgarian pastries
typical bulgarian food
traditional bulgarian dishes
famous bulgarian food
bulgarian potato salad
bulgarian bean soup
bulgarian lentil soup
bulgarian biscuit cake
bulgarian feta
Adventure Activities in Bulgaria
For travellers who love a bit of adventure, for those who love to experience the wonders of nature, this is for you!
Bulgaria has a diverse landscape; from the sea to the mountains, there's something for everyone whether you're visiting Bulgaria in summer or winter.
Here are some of our favourite adventure activities to do in Bulgaria:
diving bulgaria
climbing bulgaria
rila / rila mountain/s
sky diving bulgaria
bulgarian mountains
hiking in bulgaria / bulgaria hiking / hiking bulgaria / trekking bulgaria
camping bulgaria / bulgaria camping / camping in bulgaria
mountain biking bulgaria
How To Get Around Bulgaria
Getting around Bulgaria is surprisingly easy compared to other countries in Eastern Europe.
Bulgaria has a reliable and affordable train network moving throughout the country and also in and out of the country. Trains run frequently and although they can sometimes run late, we had a lot of luck traveling Bulgaria by train and didn't experience any delays.
You can check out the Bulgaria railway map below, and book your train ticket online via the BDZ website or in person at the train station.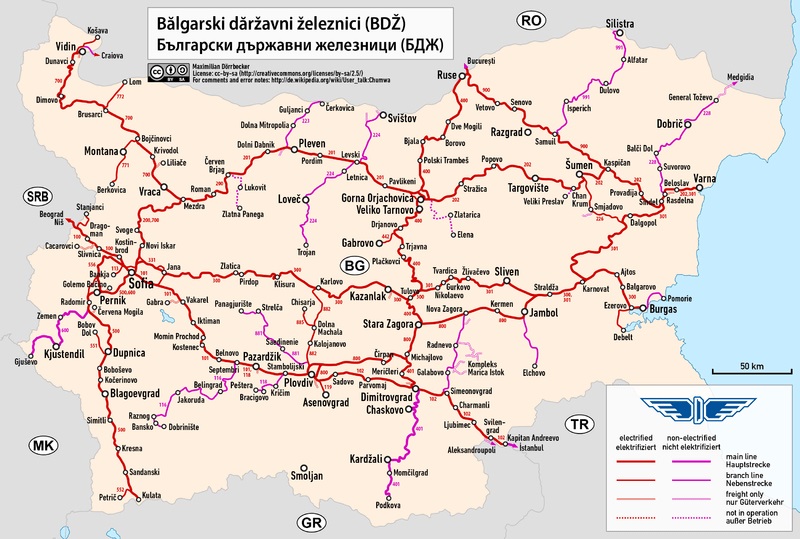 The train system in Bulgaria was so easy that we used it to plan where we were going to visit in Bulgaria. We found that once you get to a train station, most of the time you could find a taxi or bus to get you to your accommodation or somewhere more remote if you want to experience small villages and towns off the beaten track.
For shorter distances taxis are also reliable in Bulgaria. Just be mindful of using a reputable taxi company and either agree to a price before you get in, or ask them to turn the meter on. There are many taxi companies around Bulgaria, a quick search should tell you which ones to use or you can ask some locals. In Sofia, you can use Yellow taxi.
Another way to get around is to rent a car in Bulgaria. The price to rent a car is usually between €10-25 per day for a basic car including insurance. It's the most expensive way to get around Bulgaria but it has it's advantages, as it makes it easier to see remote places.
We did hire a car a couple of times in Bulgaria when we wanted to find some rock climbing spots, and other times we got a taxi.
What To Pack for a Holiday to Bulgaria
Your ideal packing list for a holiday to Bulgaria is going to depend on the season and what you plan to do whilst travelling to Bulgaria. Here are some suggestions for what to pack and what to wear for Bulgaria travel.
We found that the best way to dress in Bulgaria, is to dress for the weather. The type of clothes you wear doesn't really matter and there is no fashion contest as you walk down the streets. Though we recommend modest clothes that cover your shoulders and legs when visiting churches and monasteries. Bulgaria does have some harsh weather up in the mountains, so if you are doing any hiking be prepared to protect yourself with sunscreen in summer and warm gear in winter.
Here is what we recommend packing for your holiday to Bulgaria:
Passport, drivers license, money/travel card.
Water filter – if you don't have one you can buy bottled water, but it is better if you can get a good travel water filter to save on using multiple plastic bottles.
Phone, camera, relevant chargers and photo storage device such as USBs and spare SD cards. You can also use cloud storage for photo backups. Read our recommendation for the best way to backup photos while travelling.
Sunglasses, sunscreen and a hat (even during winter make sure you protect yourself from the sun reflecting off the snow)
Swimming costume and quick dry towel, if you are relaxing at the beach or want to take a quick dip in a mountain river or icy plunge pool.
Shoes – everyday sneakers, hiking boots, sandals or thongs for the beach. Dress shoes are optional if you have room.
Clothes – jeans, hiking pants, shorts, 3 t-shirts, 1 nicer top, 1 light sweater/cardigan/flano/vest. Also 1 dress if the weather is nice. No need to over pack clothes.
Don't forget undies, bras and socks!
Warm clothes – if the weather calls for it make sure you have – base jacket, waterproof jacket, coat, gloves, beanie, scarf, warm socks.
Toiletries – try to get travel size if you can – toothbrush, toothpaste, shampoo, conditioner, body wash, razor, deodorant, face wash, moisteriser, hair brush. Don't worry if you forget something, you can always buy it there. Try to go without makeup, but if necessary just some concealer, blush, mascara and lip balm should be enough, and a Halo pad works wonders instead of makeup wipes.
For active travellers – climbing shoes and gear, waterproof bag, travel yoga mat, backpack for hikes.
Workout clothes, to enjoy one of the many outdoor gyms around the country.
Try your best not to over pack, it will only make things harder when you are moving around.
Best Time To Visit
Bulgaria
When is the best time to visit Bulgaria? Honestly, it depends on what sort of adventure you're looking for.
Want to relax by the beach, enjoy some good parties and maybe do a bit of hiking, biking or water sports? Then summer on the Bulgarian east coast is for you. Visit Bulgaria for summer anytime between May and September.
If you're looking for a winter adventure, involving skiing, snow kiting, snow trekking and relaxing by a warm fire at the end of the day, then head over to the central and western regions of Bulgaria sometime between December and February. If you're planning to ski in Bulgaria be sure to check the snow forecast to make sure you're not too early or late for the season. Skiing in Bulgaria is very affordable compared to other European countries, so it's a great way to get some skiing in for the season on a budget.
Bulgaria Cities
Bulgaria cities
cities bulgaria
things to do in sofia
Winter and
Skiing in Bulgaria
skiing in bulgaria
ski resort bulgaria
winter in bulgaria
Summer and Beaches in Bulgaria
beaches in bulgaria
best beaches in bulgaria
bulgaria beaches
black sea beaches
Enjoy Your Holiday To Bulgaria!
We hope this has helped you plan your holiday to Bulgaria, or has inspired you to consider Bulgaria travel in your next trip.
You can find more information on other destinations in Europe in our Europe trip planner.